In March 2019 I wrote an initial review of my Orbea Gain M20i 19, which I'd titled "A Skeptic's Review" because … well, I was skeptical. Here's my follow up after a few months of use, in the form of some lessons learned.
1. Make sure your charger is plugged into power.
This may seem obvious, because it IS, except it's not. I learned the hard way, embarking on a long, difficult (for me) ride to Crockett, Calif, with my husband-equivalent (and Frame Up Bikes co-owner) Tom Crenshaw with only 70% charge. It's a 2.5 hour ride, with 2,500 feet of climbing.
The good news is that my particular model of Orbea Gain (a M20i 19 with electronic shifting) is light enough that I could turn all power off and ride it like a pedal bike when on flat ground or a slight incline. The bad news was that this made me far slower than Tom (the reason I got an e-bike to begin with), and we had to cut our ride short in order to beat the sunset. Sigh. 
I still had 6% of battery left when we got home, though, so there's that.
2. You'll want to charge your bike after every ride.
Running out of battery on a ride sucks, and if you can avoid it by starting out with as much battery power as possible, you might as well. On long or challenging rides, I'll keep track of my usage and pace myself so I don't run out until I pull into our driveway. But I'll admit, if I've got 10 miles to go and I still have a lot of battery, I'll put it in the highest assist mode possible and cruise home as a reward.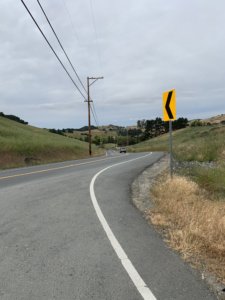 Tom took me on one of the Frame Up Bikes' Sunday morning road ride routes titled "Pig Farm and Three Bears" (a local bicycle route here in East Bay that includes … well, a pig farm), which took us 2.5 hours and entailed 2,800 feet of climbing. It's pretty beautiful, and I had 38% of my battery left at ride's end. Woot!
3. You'll be inspired to take on more challenging rides.
With the Specialized Ruby, I was limiting myself on my rides, fearing I'd bonk and have to limp tens of miles home. With the Gain, I've gone on so many adventures — even by myself, including a ride to Crockett that was nothing short of thrilling. That ride was 2.5 hours and 2,800 feet, and I admittedly burned through my battery without the benefit of riding Tom's wheel. But still. I'm not in a rut anymore.
And best of all, I've been able to go on rides with Tom that I'd never be able to otherwise.  I no longer feel limited to Danville Boulevard, a lovely, flat route that is lovely, but not, like, EVERY week.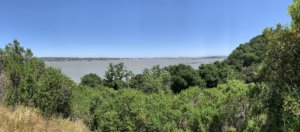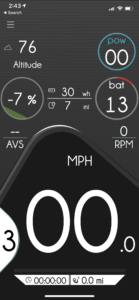 4. You'll find a happy medium.
Look, I still sometimes ride my Ruby pedal bike. Sometimes I just want to do a very local ride, and I don't feel particularly adventurous. But overall I've found a happy medium, often riding the Gain with the pedal-assist off and flipping it on when I'm tired or climbing. That way, I get the best of both worlds.
For example, on Tom's and my recent ride to the Oakland Hills (3 hours and 3,300 feet), I rode the first 13 miles without any pedal-assist at all. Again, the only issue there was that it made me slower, and we had to cut our mileage short due to our late start and impending sunset. But it meant I could blow all my battery on the major hills and the ride home.
There's honestly nothing better — for me, anyway — than seeing some of the incredible sights that East Bay has to offer and then racing home, tired and hungry, with battery to spare.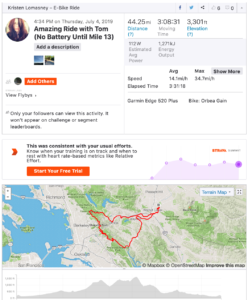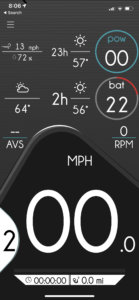 Conclusion
In conclusion, yup, still enjoying the e-bike. Do I bother taking it on my old, flat San Ramon route? Not often, unless I'm sick or exhausted, in which case I'm using it as a pedal bike until fatigue kicks in. But it's really expanded my repertoire. An e-bike is definitely worth checking out, and Frame Up Bikes has a few for demo if you want to stop by and see one for yourself. You can reserve one for rent here. 
I swear, you're not giving anything up by riding an e-bike and it isn't "cheating". You're GAINing miles and adventures. (See what I did there?)
One last note: After watching me turning my head every 20 seconds to check to see if there were any cars behind us on our Two Bears ride (another local, hilly route here in East Bay), Tom got me a rear light sensor (editor's note: aka "radar") that projects cars onto my Garmin. I talk about that here. It's really come in handy, especially on the many descents that I now regularly find myself on.