As mentioned in my previous post, I was on a long road ride with my husband equivalent (and Frame Up Bikes co-owner) Tom Crenshaw, and I was taking lead. I have a THING about cars, especially when I'm going down a hill. I want to make sure I'm controlling my speed enough that I don't take turns too wide, and in order to do that, I need to keep track of the vehicles behind me.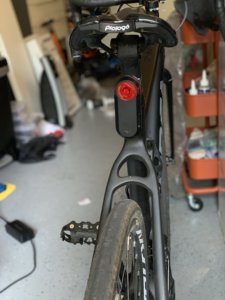 You know how little kids will ride wherever they look, for example, when they're coming toward you on a trail? Apparently I do that. Tom was having a mini heart attack watching me look behind myself every 10-20 seconds; it appears I was inching closer to the street every time I looked over my right shoulder. 
So for my birthday, Tom got me a Garmin Varia RTL510 Radar Tail Light. It has a sensor that detects cars, and projects them onto my Garmin GPS. 
Here's what happens when there's no car, and then suddenly a car. The device alerts you with a sound, and then you can follow the car's progress as it creeps up on you before finally passing you by.
(Note: I can't video and ride at the same time, so I was stopped off to the side on Danville Boulevard during this video.)
Here's what it looks like when there's a WHOLE BUNCH of cars behind you. Gah!
If mirrors don't work for you for whatever reason — and they really didn't for me — this is really a nice option. I haven't found that it alerts me to bikes behind me on the trail unless they are REALLY moving (like, 20 mph). 
But it's been really great to have this radar on all the adventures I've been going on lately on my Orbea Gain e-bike, which have taken me to places with a lot of cars and a lot of hills. It's definitely worth a look if you're a roadie; you can find the technical specs (which includes a very easy way to charge via USB) HERE. (NOTE: Frame Up Bikes can order you one and have it here within a couple days at most) 
Oh. And the tail light is also great because cars can see you too. I got all the way to the end of the post before mentioning that, I guess because the radar feature is something I rely on keeping me safe a lot more than I do on a tail light. But I keep mine on "blink" when I'm riding, including during the day, so every precaution possible is taken. And when a car is sensed, the pattern of "blink" actually CHANGES so the rider behind you benefits from the device as well.
Anyway. Come by Frame Up Bikes and see the Garmin Varia RTL510 Radar Tail Light in person!