Frame Up Bikes (FUB) is a full service bike shop that caters to all levels of cyclists, from the beginner to the advanced, seeking the best possible cycling experience.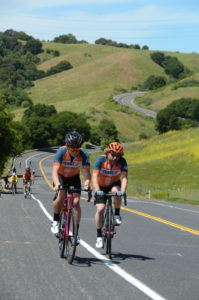 FUB doesn't just sell and fix bikes — we ride them. We sell what we use or wear ourselves, so we can tell you exactly how that helmet will feel on a summer mountain bike ride, how warm those socks will keep your feet during a winter Mount Diablo descent, and how to properly setup your suspension for whatever trail you are riding with your friends on your next epic ride.
We also ride the bikes we sell, and every bike in our shop is available for a demo so you get the opportunity to try before you buy — this includes our personal bikes which are usually highly customized.
At Frame Up Bikes we believe in improving people's biking experiences one element at a time. Not everyone can afford a brand-new bike, but there are tweaks and affordable upgrades that can make your ride that much better. That's actually where our name — Frame Up — came from: our philosophy that you can start with a bicycle frame and work your way up to your dream bike over time. 
As for the owners, Tom Crenshaw, Chris Reardon and Ron Ocampo, they opened the shop in 2017. Tom and Chris have worked in bicycle shops for years, and they have competed at all levels of cycling. Ron also loves bikes, and he's a WIZ in frame protection. The "community" in the Frame Up Bikes logo is because Tom, Chris and Ron truly want to foster the East Bay cyclist community they're a part of themselves, which is why FUB sponsors various teams such as Tieni Duro a local USA Cycling junior road race team (come check out the California state jersey hanging in our shop), the Frame Up Grom Squad as well as individual local cyclists (we had 5 cyclists podium at the 2018 Sea Otter Classic), and hosts rides led by other local groups such as Hercules Cycling Clug.
But, you know, all that philosophy stuff said … if you get a flat tire on the Iron Horse Trail (which is two blocks away) or you're not sure that the old bike your boss gave you is road worthy, come on by. We'll take care of whatever you need.